If liquids other than water have been poured down the FloWater Refill Station's drain, a clog may occur in the rear/bottom in-line drain screen, requiring it to be serviced.
The good news is, the procedure to clean it out and eliminate the clogging issue is relatively simple if you have 5-10 minutes to follow the instructions below, and have a bucket, some towels and a set of pliers handy. Video instructions are also included at the bottom of this article
1. Unplug the Refill Station at the wall and plug it back in for proper reset.
2. Locate the in-line drain filter (shown in red below), located at the bottom rear of the Refill
Station.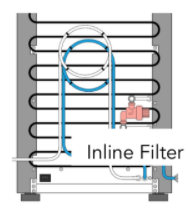 3. Have a towel or cup ready. When you remove the filter, water will come out of the white drain tubing.
4. To remove the in-line filter from the tubing, push in on the fittings to release them.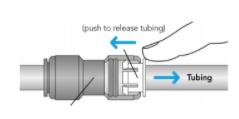 5. Remove the pin on the grey filter housing by pushing the two knobs together and removing upwards (pliers may be needed). Then, twist the cap to open. Remove the inside mesh screen taking note (shown below) the direction the screen fits inside the grey housing and the direction of the arrow imprinted on the inline filter.
6. Thoroughly rise off the mesh screen cylinder.
7. Replace the mesh screen in the filter housing and replace the cap. Lock into place. MAKE SURE MESH SCREEN IS FACING THE CORRECT DIRECTION, AS SHOWN BELOW.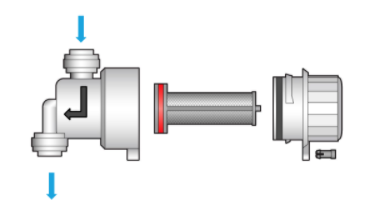 8. Reconnect the in-line filter housing to the tubing, ensuring the arrow printed on the outside is pointing downward, and make sure the fittings are firmly pressed all the way onto the tubing.
NOTE!! IT IS VERY IMPORTANT THAT THE MESH SCREEN IS PUT BACK IN PROPERLY AND THAT THE ARROW ON THE GREY FILTER HOUSING IS POINTING DOWN WHEN YOU RE-ATTATCH IT TO THE TUBING!!
If your Refill Station is still experiencing drain clog issues after performing these steps, contact FloWater Support for assistance.