Source/Feed Water Requirements
FloWater Refill Stations have been designed and built to purify municipal tap water most efficiently at 70 psi, but can operate within spec between 50 psi and 100 psi of supply line pressure. A pressure regulator is installed inside each Refill Station during manufacturing. Refill Stations are designed to operate in ambient temperatures of 40 deg F - 104 deg F (ambient temperatures greater than 104 deg F can result in damage to the Carbon and Advanced Osmosis filters). Refill Stations are designed to be placed indoors only. Any damage caused by exposure to ambient temperatures below 32 deg F is not covered under warranty. Our Refill Stations are installed with shut off valve in the rear, lower left of the unit and require 1/4" water line.
Source/Feed Water Connections
A 3/8" angle stop (standard for sink fixtures) is the most common source water connection for a FloWater Refill Station. Our certified FloWater technician will connect an angle stop adapter to the 3/8" angle stop to allow the 1/4" water line to be attached via a push fitting.
3/8" Angle Stop: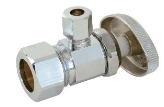 Angle Stop Adapter: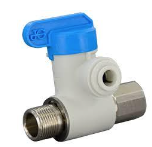 If your source water connection is something other than a 3/8" angle stop, don't worry! We connect to all sorts of water connections. Make sure you provide us with a description and photo (if possible) of your source water connection so that our technician arrives prepared for you installation!
Drain Water Overview
FloWater Refill Stations utilize Advanced Osmosis filters which require a drain. Advanced Osmosis product water to bypass water is a 3:2 ratio at 70 psi. Lower water pressure may result in lower Advanced Osmosis efficiency. Our Refill Stations require a 1/4" drain line attached to the rear of the unit with a quick-connect fitting. Depending on your local plumbing code, the drain line may require an air gap to be installed by your contractor/plumber before a FloWater technician can install your Refill Station.
Drain Water Connections
If a standard size drain pipe (typically 2-2.5") exists with a p-trap under the sink, a drain saddle is utilized to connect the Refill Station's drain line. a 1/4" hole is drilled through the drain pipe and the the drain saddle is then wrapped around it. The 1/4" drain line is then attached to the drain saddle with a quick-connect fitting.